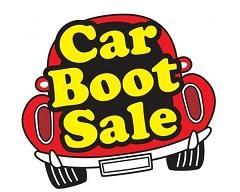 Rotary Club of Ashburton Plains Charitable Trust
'CAR BOOT SALE'
$20 per Site
Sunday 2nd April 2023
Sunday 7nd May 2023
10 am – 1 pm
Central West Street Car Park, Ashburton
For further information:
TXT name and email address to 027 2317285
     or  email:secretary@plainsrotary.org.nz
Vendors Register Here: Car Boot Sale Registration
Car Boot Sale Terms and Conditions
General Information
Fees: Registration fees are $20 per site (Non Refundable). Sellers must register to be allocated a site number. You must have a site number to gain entry.
NO ON THE DAY ENTRIES WILL BE ACCEPTED.
Each site measures 2.7m wide x 7.3m deep. Multiple sites can be booked. Please keep within the boundaries as defined by the parking marks.
Rotary Team personnel wearing yellow Hi-Vis Jackets are there to assist you find your site.
Please refer problems with your site or neighbouring stalls to a member of the Plains Rotary Car Boot Sale team promptly.
IMPORTANT: keep your till float and takings safe and secure at all times.
You are obligated to take home all your items including any disposables.
Future bookings can be made via Plains Rotary Website. We cannot guarantee the same site next time you come to the Market.
Please co-operate with your neighbour.
We recommend early bookings for trading days. The full site payment is required in advance to secure your site.
Before leaving, please pick up litter on or around your site.
The Ashburton District Council toilet block is situated on the East Street green just beyond the trading area.
A modest First Aid kit is available at the Plains Rotary Admin headquarters. In the event of accident, Rotary Team personnel can assist you in calling appropriate assistance or 111.
Please remain on your site until 1pm. For public safety, vehicles must not move through the Market Area until 1pm. You are requested to take the shortest route from your site to the roadway. The only exception for leaving early is illness, an emergency, or the onset of bad weather. On notice of an emergency, a Rotary Team member will assist your movement through the market area.
We are interested in any feedback about the market. If you have any comments, suggestions, or criticisms please let us know.
Please leave your site clean and tidy before you leave, we appreciate your co-operation.
Important: Shared Responsibility for Health & Safety
Under the Health and Safety at Work Act 2015, it is acknowledged that there is a shared responsibility between The Plains Rotary Car Boot Sale management; all Stallholders, and the visiting Public to ensure The Boot Sale has a high level of Health and Safety for the benefit of everyone.
CAR BOOT SALE RULES
The following Sale Rules must be adhered to at all times:
The maximum speed limit in and around The Plains Rotary Car Boot Sale is 5kph at all times.

Vehicle movements must not occur on the market stall area between 10am. & 1pm.

Vehicles parked on stall sites cannot leave the area between 10am. & 1pm.

Vehicle movements within the stall site must not exceed 5kph.

Cars, Trailers, Utes are acceptable; however the size must fit within the prescribed space.

Stallholders are not permitted to set up their stalls over the front boundary of their site; – that is; onto any public thoroughfare.

Goods for sale must not be hawked around the market area; all selling must be done from your site.

Pamphlets, flyers or advertising material cannot be distributed around the Market or placed on vehicles.

With the exception of the Plains Rotary Raffle; Raffles are not permitted from stalls.

Food items being sold at the market should be prepared in appropriate premises and ratified by a licence or food handling certificate issued by the ADC. Prepared food must be displayed covered with wrapping or in a display case. A tent or gazebo should be erected to protect it from the sun. (Gazebos must be anchored securely.)

Stallholder signage is not permitted.

Stallholders must take all rubbish with them when leaving the site.

Sites must be vacated by 1:30pm.

Dogs are not allowed in the Market area.

Amplified sound is not permitted.

The Plains Rotary Car Boot Sale area is designated an alcohol free zone; is a non-smoking environment; and prohibits drugs, or any form of dangerous weaponry.

Counterfeit or faked goods with pirated brand names protected by local or international Copyrights cannot be sold. You will be asked to leave if you infringe this instruction. Stallholders must report any notifiable event (injury, illness, accident) which occurs on their stall site to the Plains Rotary Car Boot Sale headquarters.

Plains Rotary accepts no liability for the condition of any market place goods; nor shall it be accountable for any compliance and usability certification or lack thereof.

Plains Rotary reserves the right to accept or decline any registration at it's discretion.
EMERGENCY PLAN
MARKET RULES
The Rotary Plains Car Boot Sale administration will not tolerate vehicle movements within the market stall area during the advertised trading hours 10am until 1pm. Stallholders not adhering to the above rules will lose the right to operate at The Plains Rotary Car Boot Sale.
Stallholders who know they might leave the market early must not park their vehicles on their market site.
EMERGENCY PLANS
The only deviation from the above rules would be in the advent of a storm bringing strong winds and rain; or a fire; or other events where your safety is at risk. — We then request that stallholders depart from the market in an orderly fashion, taking note that members of the public could still be present.
In addition, if stallholders have a sudden medical or family emergency where they need to leave the market early, phone 027 432 8328 immediately for assistance from Plains Rotary Car Boot Sale personnel to escort you and your vehicle through the market