1969 – 2019
50 Years of Service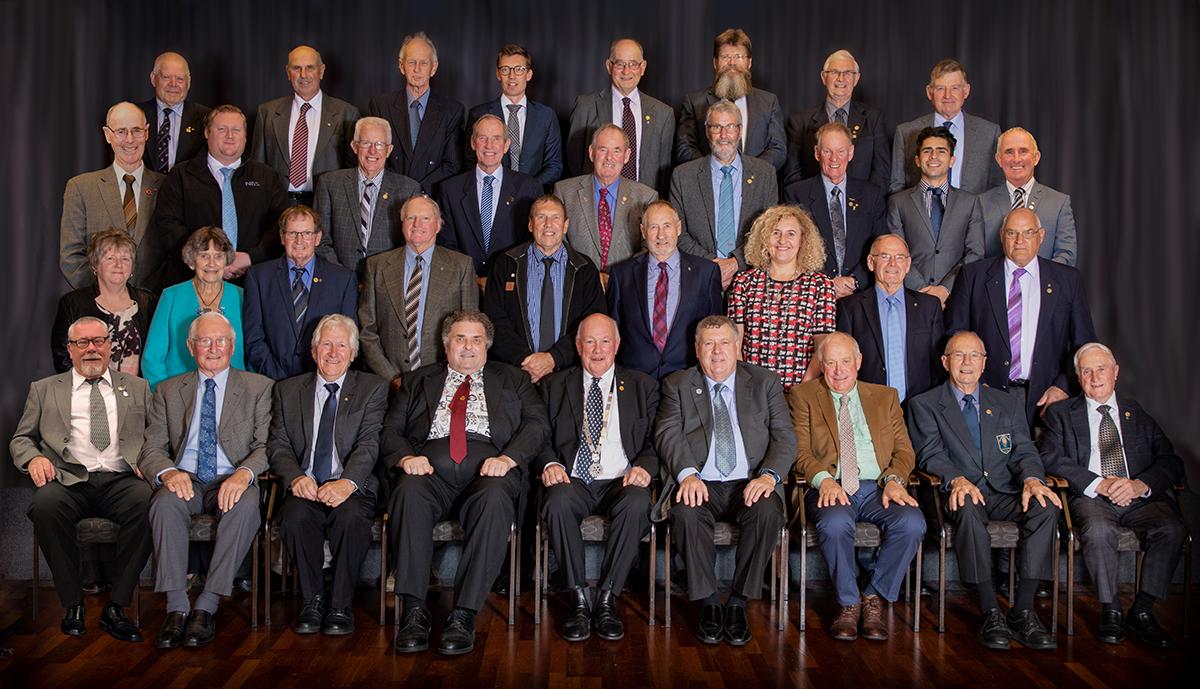 President John Duncan with Club Members – May 2019
Back Row: M Tarbotton, A. Tait, W. Melchers, J. Shaw, R. Snowden, C. Hansen, R. Scammell,M. Page.
3rd Row: A Urquhart, D. Jones, P. Quinn, C. Howard, C. Bryant, I. Knight, 0. Moore, P. Perte, D. Taylor.
2nd Row: S. Blacklow-Cahill, A. Royds, R. McLaren, A. Sim, G. Bruce, A. Lill, C. O'Brien, L. Tarbotton, K Leadley.
Front Row: F. Luxton, E. Buchanan, R. Girvan Secretary, S. Alien, J. Duncan President, P. Young President Elect, B. Fielder Treasurer, R. King. R. Anstiss 
Forward
Thank you for giving us the opportunity to write the forward to this 50th Anniversary of the Rotary Club of Ashburton Plains, though it Chartered as the Rotary Club of Ashburton South. The name was changed when Rotary International relaxed the boundaries.

We were grateful to Keith Hall who was appointed as District Governor Rudd Brown's Special Representative who between them decided to establish a new Rotary Club bounded by the South side of Tancred Street, Chalmers Avenue to the River and the Rangitata River, hills to the sea. A sensible area with clear boundaries which were strictly adhered to given the rules of Rotary International. The rules of Rotary have been responsible for maintaining the organisations strength especially in terms of Classifications, membership procedures and policy.

Fourteen members of the Rotary Club of Ashburton joined with fourteen non Rotarians to form the new club which met in the Dining Room of the Tinwald Hall and Chartered on the 10th day of May, 1969.

Ellis Buchanan was a five year member of the Ashburton Club and now aged 91 is still active in the club though a recent stroke has set him back from swimming temporarily.

Russell Anstiss being the only other Charter Member was one of the new members.

The Club has contributed significantly to the welfare of the district and its members have raised many thousands of dollars from, selling pea and linseed straw, new potatoes, auctions, car rallies and firewood among others, and significantly supported RYLA, Young Totara, Science School and Youth Leadership programmes.

1969 Charter Members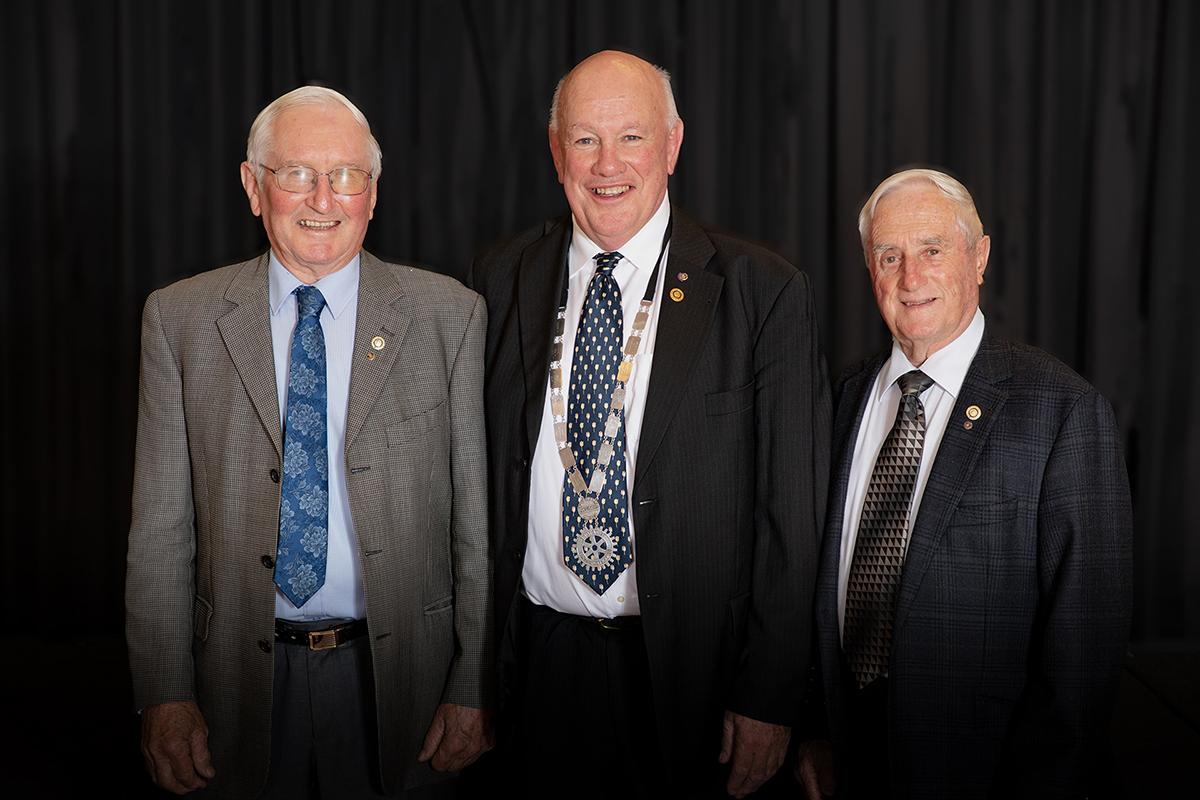 Charter Member Ellis Buchanan (Left), President John Duncan (Centre) and Charter Member Russell Anstiss (Right).
In the words of Ellis Buchanan, we can be justly proud of our fifty years of service to the Community, confident the Club will build on its heritage and fulfil its future goals in the true Rotary ideals of fellowship and service.

Ellis Buchanan and Russell Anstiss.
Charter Members of the Rotary Club of Ashburton Plains
Presidents Message
John Duncan
On the 10th of May 1969, 28 members were present at the first meeting of The Rotary Club of Ashburton South to receive the club charter to be able to operate as a Rotary club , 50 years on we celebrate a half century of service to the Ashburton District community by the Rotary Club of Ashburton Plains. Of the original number of 28 members, 2 are still active namely Ellis Buchanan and Russell Anstiss. We pay tribute to their commitment to our club and Rotary.

Over the last 50 years the club has played a valuable part in supporting the Ashburton District community following the Rotary ideals of "Service above Self". This has resulted in the club being held in high regard within our community and we acknowledge past and present members in achieving this recognition through hard work and commitment.

The club has always been very supportive of Rotary International by supporting the Rotary Foundation and Polio Plus programme with financial contributions. The club is very proactive locally in supporting many youth projects as well as wider community groups and individuals in need of assistance either physically or financially.

I would like to acknowledge on behalf of the club members special thanks to the organising committee comprising of Russell Anstiss, Roger Scammell, Malcolm Tarbotton, Murray Page, Cohn Bryant and Philip Young for their efforts in planning the 50 year celebrations.

This booklet covers the history of the club from year 40 to year 50 and complements the previous 2 booklets, 25 year and 40 year already published. I hope you take the time to read the history of the last 10 years.

As we look back with some satisfaction on the 50 years of service the club has given we are very aware the world is moving at a very fast pace and we need to make sure we follow the 2018/19 Rotary International theme by continuing to "Be The Inspiration". Bring on the next 50 years we are ready to take up the challenge whatever that might be.

John Duncan President 2018/19